News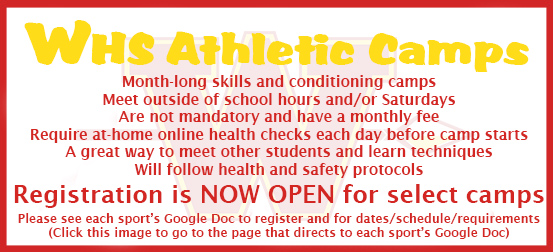 **Update 9/28/2020, Volleyball camp has been postponed to October. Girls camp to start 10/12/2020, Boys camp 10/13/2020 **
Camps will be limited in size and implement safety protocols.
Camps have limited availability due to these protocols and are on a first-come first-served basis. Some camps will sell out.
No refunds, camps may be canceled at any time.
To attend camp, you must complete ALL the following or you will not be allowed to participate:
1. Find the link to your sport(s) on the camp page here: Link
2. Pay for camp through the webstore found on your sport(s) page from step 1.
3. *Student must show as "cleared" for the sport for 20-21 on athleticclearance.com. Contact LoganHooker@iusd.org to submit your final confirmation sheet or with clearance concerns/questions.
4. First Day: Upload the following 2 waivers signed and scanned to your athletic clearance, or print both documents and bring to camp on first day: Waiver 1 and Waiver 2
5. First Day & DAILY: HEALTH FORM COMPLETED EACH DAY BEFORE CAMP STARTS (found on Sport's Google Doc they must use their IUSD student email to log in to complete the Health Form, and can only complete the form on the days they have camp, so please do not do this until the first day of your camp)
If all 5 items are not complete, the student will not be able to participate.
*Please note, all athletes must be cleared before participating in camps and tryouts through athleticclearance.com. Once their clearance and physical are complete, please scan and email your signed Athletic Clearance confirmation page to LoganHooker@iusd.org.
Athletic Skills Camp
Woodbridge High School's Athletic Skills Camps are designed to teach fundamental skills in each sport and to help build up proper strength and conditioning. Camps are open to all athletes, are purely recreational and voluntary. Daily attendance aids in development but is not required. Participation in camps is not offered for credit and is not a prerequisite for equal access to participate in athletics during the school year. Please note, separate tryout dates will be posted on the Woodbridge High School Athletics website as they become available.