News
---
All Home Varsity football games are played at our District Stadium at University High School unless otherwise noted on the Athletic Calendar found on the QuickLinks tab to the right.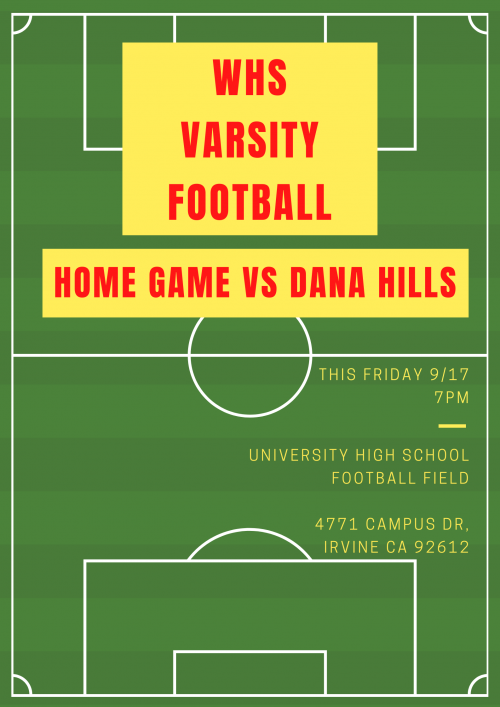 ---
UPDATED CDPH REQUIREMENTS FOR INDOOR SPORTS 9/1/2021-
 https://woodbridgehigh.iusd.org/article/updated-cdph-guidelines-athletics
---
If your student is interested in joining a sport for 2021-2022, please make sure you have done the following:
1. Have a physical completed by a doctor (please use linked form unless you are seen at Kaiser. If seen by a Kaiser doctor, please only complete Section A "Health History" and submit Kaiser form.
2. Upload the physical to a profile for any sports they are interested in for year 2021-2022 on athleticclearance.com. Email a photo or scan of your completed confirmation page to: LoganHooker@iusd.org
3. Speak with your counselor (link to counselor list) to ensure sports fit into your class schedule.
4. Check for tryouts on the tryout page, and email the head coach that you are interested in joining their sport and to receive more information. 
NOTICE OF NON-DISCRIMINATION IN ATHLETICS:
IUSD does not discriminate in enrollment in or access to any athletics program available. Admission to these programs is based on age appropriateness, team roster space, aptitude and meeting academic and behavioral eligibility requirements. English skills shall not be a barrier to admission to or participation in the District's activities and programs.
IUSD's facilities and equipment provided for students are comparable and equitable to both sexes without disparity or imbalance, consistent with his or her gender identity, irrespective of the gender listed on the pupil's record. For additional information see www.iusd.org (Board Policy 5145.5)
---