If you need to request a transcript, a letter verifying your full time enrollment, a social security form, or good student insurance form, please see Mrs. Barelian, in the counseling office (H102).  See below for more details.
current students
All other students: Check carefully to see if a transcript is required as part of your initial application.  UC campuses and CSU campuses DO NOT require transcripts initially.  Many out-of-state public colleges also do not require transcripts initially. Unofficial transcripts can be printed directly from MyIUSD/Parent Portal.  For all questions related to transcripts, please contact WHS Registrar, GraceBarelian@iusd.org
For colleges and universities that require a transcript you have two options. Please consult the chart below: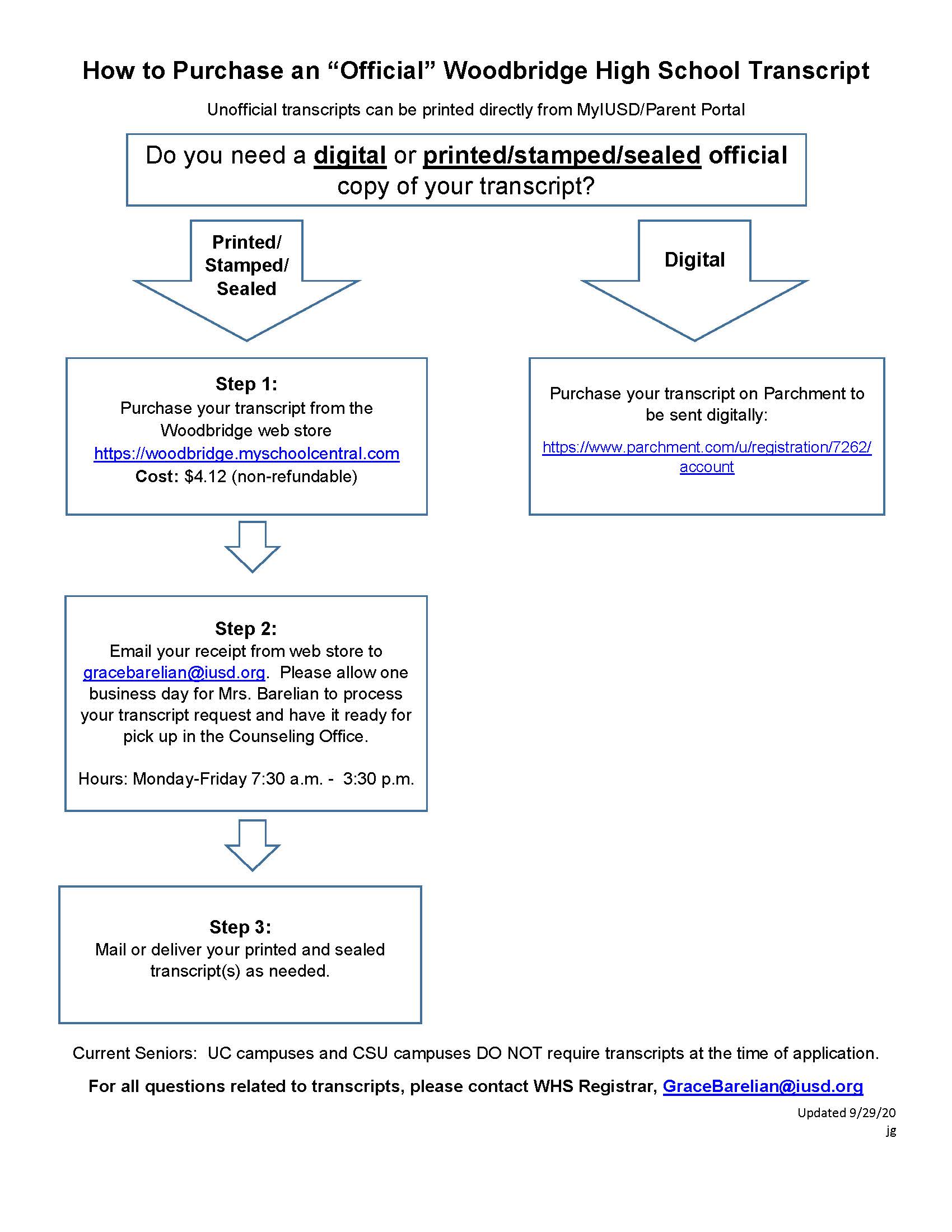 ALUMNI (class of 2000 & beyond)
Click here to order your transcript on-line.  Transcripts ordered during a school holiday will be processed when school is back in session.  Please use your legal name and include your five digit student ID number to expedite the process.  Your sealed, official transcript will be sent either by mail or electronically, whichever your college, or other institution requires.
alumni (class of 1983-1999)
All transcript requests must be in writing.  Mail your request or stop by the counseling office.  Fax and email requests are not accepted.  Mailed requests must include your name, any other name you've used, date of birth and where you would like your transcript mailed.  Please specify if you are a graduate and your year of graduation.  Please sign your request and include the prepaid fee of $4.00 for each request, cash or money order only.  Checks are not accepted and will be returned. 
Mail your request to:  Woodbridge High School, Attn:  Transcript Request, 2 Meadowbrook, Irvine, CA 92604. 
Walk in hours: 7:30 - 3:00 M-F.
additional information
Unofficial Transcripts and Grades:   Use the IUSD parent portal to access and print a transcript or grade report.  You will need the log-in access code mailed to parents by the district office.  Click here to access Parent Portal.  Parents may get a reissued access code by requesting one, in person, from the secretary in the counseling office.
Fee waivers for transcripts: If you want to request a fee waiver, bring a print out of your Free or Reduced Lunch email/letter directly to Mrs. Barelian.  Your transcript order will be processed in 24-48 hours.
Full time Student Verification Letters, Social Security forms and Good Driver Discount forms:  To order any of these forms or letters, please see Mrs. Barelian, registrar in H102, during regular counseling office hours:  7:30 - 3:30 M-F.