News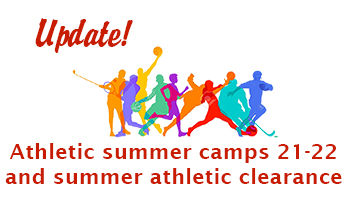 Please click for the summer camp brochure and instructions for 2021-2022 school year
Athletic Summer Camps may be purchased through the online WebStore through June 11th 11:59pm (all athletes must be cleared for year 2021-2022, check link above for clearance steps which are required to participate in camp), after that, camp may be purchased by check or cash in full amount to coach on 1st day of camp.
2020-2021 Scholar Athlete and Sportsmanship Winners
https://www.youtube.com/watch?v=wCeKyWyGXX8
NOTICE OF NON-DISCRIMINATION IN ATHLETICS:
IUSD does not discriminate in enrollment in or access to any athletics program available. Admission to these programs is based on age appropriateness, team roster space, aptitude and meeting academic and behavioral eligibility requirements. English skills shall not be a barrier to admission to or participation in the District's activities and programs.
IUSD's facilities and equipment provided for students are comparable and equitable to both sexes without disparity or imbalance, consistent with his or her gender identity, irrespective of the gender listed on the pupil's record. For additional information see www.iusd.org (Board Policy 5145.5)