News
RETURN TO PLAY REQUIREMENTS
Outdoor high-contact sports (orange tier) can be played in the purple or red tier with an adjusted case rate equal to or less than 14 per 100,000 under the following conditions:
1. Weekly COVID-19 testing for football and water polo.  CLICK HERE for Woodbridge Testing information.
2. Read Consent Letter. CLICK HERE to read IUSD COVID-19 Reopening Guidelines Letter (at home, print and sign last page of waiver, then submit photo/scan online on Google Form on page 1 & give hard copy to your coach)
3. Print and bring to your coach the new transportation waiver HERE (must be complete before first game, or ASAP)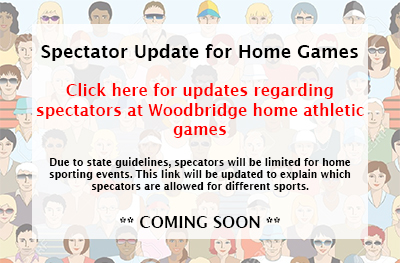 NOTICE OF NON-DISCRIMINATION IN ATHLETICS:
IUSD does not discriminate in enrollment in or access to any athletics program available. Admission to these programs is based on age appropriateness, team roster space, aptitude and meeting academic and behavioral eligibility requirements. English skills shall not be a barrier to admission to or participation in the District's activities and programs.
IUSD's facilities and equipment provided for students are comparable and equitable to both sexes without disparity or imbalance, consistent with his or her gender identity, irrespective of the gender listed on the pupil's record. For additional information see www.iusd.org (Board Policy 5145.5)